Integrating the Shockform's proprietary E-Strip® intensity measurement technology,
the Spiker®-ES represents the start of a new era in the peening industry
Boisbriand, Canada, (April 26, 2022) Shockform Aeronautique, the inventor and manufacturer of the FlapSpeed®PRO, the Spiker® and the SmartPeen®, today announced the launch of the new Spiker®-ES.
 
Shockform will introduce a new generation of its SPIKER® needle peening tool, the Spiker®-ES. The Spiker® has been developed with aero engines manufacturers for repairs directly on the engine with no risk of Foreign Object Damage (FOD). With the Spiker®-ES, peening is performed using tungsten carbide needles and the process parameters are continuously monitored, controlled and recorded. The Spiker® family is used for controlled pneumatic needle peening on engines and structures.

The new SPIKER®-ES comes with an embedded E-Strip®, the latest innovation from Shockform to measure the peening intensity in real-time. The E-Strip has been inspired by the Internet-of-Things (IoT) approach, connecting machines with applications to improve data analysis and process control. The E-Strip® intensity measurement sensor is meant to replace Almen strips that are currently used in the aerospace by the OEMs and MRO industry to test peening impacts.

"The embedding of Shockform's E-Strip® technology in the Spiker®-ESneedle peening tool represents the start of a new era in the peening industry, where peening becomes more efficient, more precise and greener, since the embedded E-Strip® sensor is meant to replace thousands of metal Almen strips with a few electronic sensors." explains Brigitte Labelle, president of Shockform. "We know that repair of hard-to-reach areas can take days, just for masking alone. With the Spiker®-ES, needle-peening engine repairs are done in hours", she continues. "Everything at the Spiker®-ES has been developed by Shockform, from tool to needles and accessories, making peening repairs precise, efficient and safe."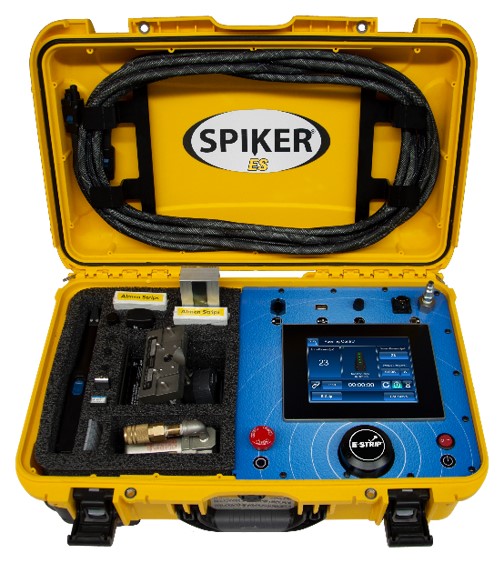 ABOUT SHOCKFORM

Shockform is a women-owned company present in major aerospace hubs in North-America, Europe and Asia. Shockform has developed a unique expertise and an innovative approach to repair and enhance metal surfaces with specialized mobile equipment that allows us to fulfill its mission: quality, productivity and safety for all shot peening processes.

Shockform is the inventor and manufacturer of the FlapSpeed®PRO for flapper peening,
the Spiker® for needle peening and the SmartPeen® for controlled manual peening. These award-winning repair tools are recommended in major OEM specifications such as SAE AMS, SMR, Nadcap as well as major military specifications such as TFO, making Shockform a leader in the aerospace repair solutions for landing gear, engines and critical structure components.